15-Day Shamanic Creativity Cleanse
January 23

-

February 6

$222
What are you being called to create?
How are you being called to serve?
The earth is beckoning for new dreams, new ideas, new ways of being. The recent astrology, numerous prophesies and our deepest knowing are all telling us that now is the time to create: a new world is possible, but not without our help.
What will you create?
How will you contribute?
In my own quest to answer these questions, one thing has come clearly: how you create is as important as what you create. A new world has to be created in a new way. A way that starts from a place of listening.
Listening to Spirit.
Listening to the Earth.
Listening to the depths of our Souls.
Inspiration for the Cleanse
In September of 2020 (during the eclipse season) two words came to me in my prayers: 'Creativity Cleanse'.
I kept wondering, What is that? I couldn't get the words out of my mind.
When I opened to what such a thing might be, a structure and a vision came in. I knew the first step was to do the cleanse for myself.
Over the course of those two weeks I found myself with new clarity and vision. I knew what I needed to do, what changes I needed to make to come into alignment with my path of service.
I could see the next steps in my life so clearly. And I could also see what was in the way, where I would need to summon my courage if I wanted to receive the life that was being dreamt through me.
There were also huge blessings. I experienced a long time dream come true, and a new vision of something my heart was longing for, a new dream I didn't even know I wanted.
The cleanse was not only inspirational for me, it was life-changing in the best of ways.
In January 2021, I offered this cleanse as a group experience for the first time and got to witness its profound impact on others. I was blown away with its capacity to meet and support people wherever they are on their creative journey.
Since then it's become clear to me that my path of service is to become an advocate of this cleanse, and continue sharing it with whoever feels called to participate. I hope you'll consider joining me in discovering its magic!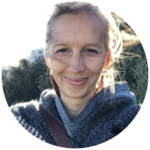 Much love,
Megan Theoret
Course Facilitator
PS – This year, bring a friend for free! Please visit the link below for more details and registration information!